with Bryan Dewsbury
Thursday, October 12
2:00-4:00 p.m.
LSC, Room 106 (Lundgren Room)
In this workshop we will use a course design template to examine more carefully the ways in which course content and practices that promote critical consciousness and social awareness can be balanced. We will examine ways in which current models of content coverage can be examined and retooled to achieve broader, more potent outcomes from the college course.
(We will offer a follow-up workshop in November for faculty interested in experimenting with Bryan's strategies in a fall or spring course and reflecting on their experience with colleagues.)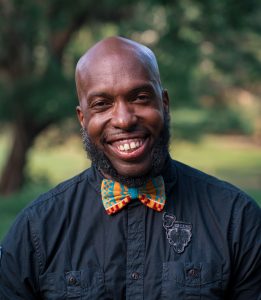 Bryan Dewsbury is an Associate Professor of Biology at Florida International University where he also is an Associate Director of the STEM Transformation Institute. He received is Bachelors degree in Biology from Morehouse College in Atlanta, GA, and his Masters and PhD in Biology from Florida International University in Miami, FL. He is the Principal Investigator of the Science Education And Society (SEAS) program, where his team conducts research on the social context of education. He is a Fellow of the John N. Gardner Institute and the RIOS (Racially-Just Inclusive Open Science) institute. He conducts faculty development and support for institutions interested in transforming their educational practices pertaining to creating inclusive environments and in this regard has worked with over 100 institutions across North America, United Kingdom and West Africa. He is a co-author on the book 'The Norton Guide to Equity-Minded Teaching' and author of the upcoming book 'What then shall I teach? – Rethinking equity in higher education'. He is the founder of the National Science Foundation (NSF) funded Deep Teaching Residency, a national workshop aimed at supporting faculty in transforming their classroom to more meaningfully incorporate inclusive practices.
Pathways for Deep Learning is a collaborative effort with Institutional Effectiveness with a Focus on Teaching and Learning.