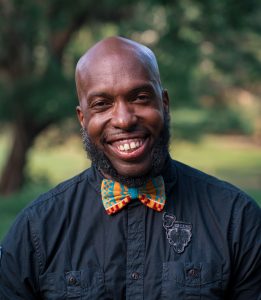 Save the Dates!
Keynote: Beyond Inclusion: Education for Civic Participation and Engagement
Wednesday, October 11, 5:00-6:30 p.m.
Workshop: We Teach Students – Balancing Content and Civic Building in Inclusive Instruction
Thursday, October 12, 2:00-4:00 p.m.
Pathways to Deep Learning: We Welcome Brian Dewsbury in October
Beyond Inclusion: Education for Civic Participation and Engagement
In this talk we will re-examine the role that a liberal, inclusive and equity-minded higher education can play in creating and sustaining a socially just society. We will consider the behaviors, attitudes, mindsets and strategies that create classrooms where students are prepared to be active participants in an evolving democracy. Agnostic to discipline, this pedagogy asks us to reconsider teaching as a humanistic enterprise, and as an explicit cultivation of developing empathetic and agentic students. Strategies for our own relearning and consideration will also be discussed.
We Teach Students – Balancing Content and Civic Building in Inclusive Instruction
In this workshop we will use a course design template to examine more carefully the ways in which course content and practices that promote critical consciousness and social awareness can be balanced. We will examine ways in which current models of content coverage can be examined and retooled to achieve broader, more potent outcomes from the college course.
(We will offer a follow-up workshop in November for faculty interested in experimenting with Bryan's strategies in a fall or spring course and reflecting on their experience with colleagues.)
Bryan Dewsbury is an Associate Professor of Biology at Florida International University where he also is an Associate Director of the STEM Transformation Institute. He is the Principal Investigator of the Science Education And Society (SEAS) program, where his team conducts research on the social context of education. He is a Fellow of the John N. Gardner Institute and the RIOS (Racially-Just Inclusive Open Science) institute. He is a co-author on the book 'The Norton Guide to Equity-Minded Teaching' and author of the upcoming book 'What then shall I teach? – Rethinking equity in higher education'. He is the founder of the National Science Foundation (NSF) funded Deep Teaching Residency, a national workshop aimed at supporting faculty in transforming their classroom to more meaningfully incorporate inclusive practices.
Pathways for Deep Learning is a collaborative effort with Institutional Effectiveness with a Focus on Teaching and Learning.
---
As artificial intelligence expands in exciting, challenging, and complex directions, CTLE and CLASS are collaborating with an informal faculty working group to support to Syracuse faculty and instructors in navigating this new teaching landscape.
We are excited to bring you our new series of captioned videos with companion audio files and transcripts, Peer-to-Peer Advice: A Timely Conversation with Faculty Colleagues.
We will continue to develop resources for responding to artificial intelligence technologies. We welcome your requests and suggestions. Please email CTLE@syr.edu to let us know how we can better support your teaching.
If you have concerns about academic integrity, please contact aio@syr.edu, the academic integrity office within CLASS. Individual course consultation is also available for faculty and instructors via the CTLE request form.
---
The CTLE grounds its services in evidence-based practices. These include, but are not limited to the following: individual consultations; classroom observations and feedback sessions; syllabus reviews; the development of college, school, and department-specific workshops; assistance in reviewing and responding to student feedback; and knowledge co-creation related to general and specific teaching questions.